DevaCurl E-Learning Curl Coach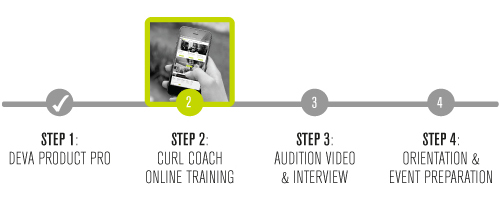 Welcome To Step 2 of Your Curl Coach Journey!
Our Curl Coach training module expands upon what you learned as a Deva Product Pro and teaches you how to apply that knowledge in an education setting, while providing tips to sharpen your presentation skills and deliver a strong message to any audience.  Not yet a Product Pro?  Click here to get started.
This online learning module includes:
Curl Coach Principles

What Sets Us Apart

Our Unique Approach to Products & Services

Learn the Looks

Presentation Introduction & Overview
Upon completion, you will receive information on how to prep for your Audition Video, step 3 of the 4-step process.

Get started now!
Training material
Welcome
Curl Coach Principles
Lesson Recap - Curl Coach Principles
Quiz - Curl Coach Principles
What Sets Us Apart
Lesson Recap - What Sets Us Apart
Quiz - What Sets Us Apart
Our Unique Approach to Products and Services
Lesson Recap - Our Unique Approach to Products and Services
Quiz - Our Unique Approach To Products & Services
Learn the Looks
Lesson Recap - Learn The Looks
Quiz - Learn The Looks
Presentation Introduction & Overview
Lesson Recap - Presentation Introduction & Overview
Quiz - Presentation Introduction & Overview
Curl Coach Audition Video Submission